This December, the Teen Company follows in the footsteps of Synetic's mainstage with a silent retelling of the Bard's fantastical, darkly playful story of love, mistaken identity and the supernatural! In a magical forest, four lost lovers and a group of amateur actors stumble into the middle of a fight between the King and Queen of the fairies and find themselves being manipulated by a mischievous changeling child.
The original mainstage production of A Midsummer Night's Dream was nominated for nine Helen Hayes awards in 2010.

Tickets are $15 for students, $17 for adults or click here to purchase a family pack ($48 for two adults and two children).
Or join us for one of these special events!
2pm on Sunday, Dec 8 – FAMILY DAY AND HOLIDAY PARTY
Immediately following the performance, join us in our new studio space, just down the hall from the theater for refreshments, Holiday-themed games and pictures with Santa! Click here for tickets.
11am on Friday, Dec 13 – WEEKDAY MATINEE AND TALK BACK
Following the performance, chat with the actors, director and choreographer and ask them your questions about the show! Click here for tickets.
8pm on Saturday, Dec 14 – TEEN NIGHT
Teens are invited to stay after the performance for a giant dance party on stage with the cast of the show! Free refreshments will be served in the lobby. This event will last until 11:00pm. Click here for tickets.
GET THE MERCHANDISE! Click here to score your very own Teen Midsummer t-shirt!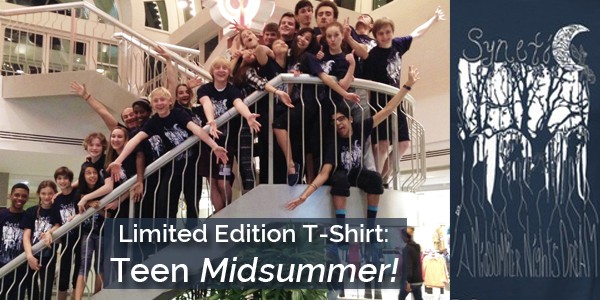 My-Linh Aslanian                  Fairy/Ensemble
Sam Brumbaugh                      Nick Bottom
Charlotte Constantinides      Fairy/Ensemble
Nadia Duncan                         Fairy/Ensemble
Roxy Fisher                              Fairy/Ensemble
Sean Hackes                             Theseus
Annette Hasnas                      Mechanical/Ensemble
Usman Ishaq                           Lysander
Julia Jones                               Helena
Ward Lehardy                         Mechanical/Ensemble
Will Lehardy                            Mechanical/Ensemble
Lexie Lounsbury                     Fairy/Ensemble
Elise McDonnell                     Hermia
Warren McQueary                  Peter Quince
Alaina Quirk                            Snake/Ensemble
Eliza Smith                               Titania
Arianna Tilley                         Hippolyta
Ana Tsikurishvili                    Puck
Eli Wassertzug                        Mechanical/Ensemble
Will Westray                           Demetrius
Quadra Wilcox                        Oberon
Director – Alex Mills
Choreographer – Victoria Bertocci
Stage Manager – Nate Shelton
Wardrobe – Phil Giggy
Technical Director – Phil Charlwood
Production Manager – Ann Allan
Producer – Joe Carlson
Guest Artist Consultants: Irina Kavsadze, Irakli Kavsadze, Ben Cunis