Saturdays, Sept 19 – Oct 21
Sat | 10am – 11:30am
Registration Ends: 9/19/2022
All of our virtual programming is hosted over Zoom.
Download Zoom
Are you ready to take your content creation skills to the next level? This class, taught by Vato Tsikurishvili, will guide students through the development and creation process of a virtual movement piece.
Students who take this class will work on movement, dance, physical storytelling, and isolations. Using the skills that he honed while working on our Virtual Show Joy, Vato will help students develop an original movement piece from an initial idea to an edited and fully realized virtual short. With an emphasis on storytelling and movement, students will have the chance to pursue their interests, while being mentored by a master storyteller. The only limit is their own imagination. This class will culminate in a virtual event where students share their original videos with friends and families!
Instructor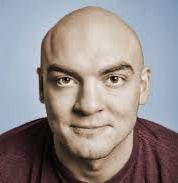 Vato Tsikurishvili
Email
A native of the Republic of Georgia, Vato Tsikurishvili is an award-winning actor, choreographer, and educator with more than a decade of experience imparting Synetic Theater's unique style to audiences and students of all ages. Performing with his parents, Synetic co-founders Paata and Irina Tsikurishvili, since the age of 4, Mr. Tsikurishvili also has an extensive athletic background, having trained in fencing under Olympic coach Vladimir Nazlymov and in gymnastics with his grandfather, the world-renowned Olympic coach Arnold Kvetenadze. Performing credits include lead and supporting roles in dozens of Synetic productions: Host and Guest, Othello, Antony and Cleopatra, King Arthur, Macbeth, The Taming of the Shrew, Home of the Soldier, The Tempest, The Three Musketeers, Twelfth Night, The Picture of Dorian Gray, Hamlet… the rest is silence, Beauty and the Beast, Much Ado About Nothing, Alice in Wonderland, Dante's Inferno, The Hunchback of Notre Dame, and Sleepy Hollow. His recent work as a fight choreographer includes The Hunchback of Notre Dame, Dante's Inferno and The Man in the Iron Mask as well as Titus Andronicus and The Adventures of Peter Pan, for which he was also Assistant Director and Co-Director, respectively. As an educator, Mr. Tsikurishvili has trained Synetic company members, travels throughout the DMV area teaching stage movement to students of all grade levels, serves as an instructor at Synetic Studio, and, alongside Irina Tsikurishvili, trains the Synetic Teen Company.