Based on "Day 6, Story 10"
After an evening listening to the local news, a woman is visited by a guide who takes her on the path paved by the righteous.
by Elena Velasco
mentored by Paata Tsikurishvili. Crewed by Nicolás Kent and Javier Kent, and mask design by Savannah Kent and Elena Velasco

---
Based on "Day 10, Story 4"
This story follows the journey of three souls facing challenges in the midst of a pandemic. What happens when apparent love can't conquer all; and when unrequited feelings surface in an unexpected way? This story explores what happens when love lays dormant and shows its true form when it is most needed. Closed captions are available.
by Maryam Najafzada
mentored by Vato Tsikurishvili with editing by Shamil Najafzade, cinematography by Nutsa Tediashvili with description by Alex Mills and special thanks to fearless actors Scott Brown and Nutsa Tediashvili, and for moral support by Phillip Fletcher
---
Based on "Day 7, Story 2"
As we follow a story of a wine barrel being sold we discover the most important thing in the times of calamities – and that is Sexy Time! Told by puppets. Closed captions are available.
by Renata Loman
mentored by Ben Cunis with music by Konstantine Lortkipanidze and camera work by Yulia Kriskovets
---
The Creators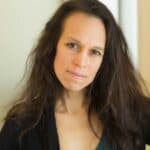 Elena Velasco is the Artistic Director of Convergence Theatre, a DC-based multidisciplinary social justice performance collective and a theatre professor at Bowie State University. Director/choreographer highlights include: A New Nation, This Is All Just Temporary, At What Cost?, Witch, Bhavi the Avenger (Convergence); Magical Piñata, Hands on a Hardbody (Keegan Theater); Entre la Tierra y El Cielo (GALA Hispanic); Córiolanas (Capital Fringe); Hansel and Gretel, Rough-Faced Girl, Magic Paintbrush, (Synetic Theater);  Little Shop of Horrors, #metoo, Godspell (Bowie State); La Perdida, (Catholic University). Choreographer:  The Agitators (Mosaic Theatre Company); A Midsummer Night's Dream (Avant Bard), Hampton Years (Theatre J), 1776 (Keegan Theatre).  Ms. Velasco serves as Equity, Diversity & Inclusion Co-Director for American Alliance for Theatre and Education.  MFA in Directing, Catholic University.  www.elenavelasco.net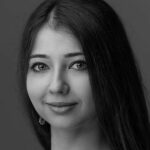 Maryam Najafzada is a ballet dancer originally from Baku, Azerbaijan. She has numerous dance credits with the Azerbaijan Opera and Ballet Theater, Azerbaijan Musical Theater, and Manassas Ballet Theatre including The Nutcracker, Swan Lake, La Bayadere, Cinderella, Don Quixote, and Seven Beauties. She was recently on Synetic's stage as the Horse Spirit in this season's production of The Legend of Sleepy Hollow, Roxanne in Cyrano De Bergerac, Lady Ann in Richard III, Miranda in The Tempest and Christine in Phantom of the Opera. Maryam has served as an Understudy for Synetic's productions of Sleeping Beauty, Adventures of Peter Pan, Titus Andronicus, Wizard of Oz as well as performing with Synetic's Outreach program. Locally Maryam teaches ballet, character dance, and pantomime as well as choreographing dance pieces. Graduated from Baku Choreography Academy.
Renata Veberyte Loman Synetic Theater Company member since 2004. Credits: Synetic Theater: Alice in Wonderland, Beauty and the Beast, A Trip to the Moon, The Taming of the Shrew, King Lear (Helen Hayes Award for Best Ensemble), Lysistrata, The Fall of the House of Usher, Dracula; Scena Theatre: Salome, Capital Fringe: My Way Little Girl; Classika Theater: The Marriage Proposal, Uncle Vanya. Film: Motherland, Seneca's Day, Her Tango, You am I (Cannes Festival, Un Certain Regard program), Valentina (title role); Narcissus (AD, casting). Training: Lithuania Academy of Music, School of Dramatic Arts.